At Total Spine and Rehab, we take great pride in providing the finest chiropractic wellness care to our patients. Below is a sampling of the different chiropractic services we offer in our Jackson office.
Chiropractic Care
We provide advanced spinal correction utilizing "state of the art" chiropractic techniques. Never in the history of chiropractic have we been able to provide the level of help and expertise that now exists. These newer correction methods are even safer, more comfortable and more effective than ever before. As a Doctor of Chiropractic, Dr. Brian Graham has years of training and experience in spinal adjustment.
---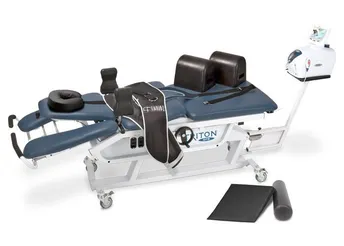 Spinal Decompression Therapy
Spinal decompression therapy is a modern, non-surgical traction procedure that effectively treats low back, neck, and radiating leg and arm pain. This type of traction is very successful in relieving pain associated with spinal disc herniation, degenerative spinal discs, and facet joint syndromes. Spinal decompression therapy decompresses spinal discs and facet joints by utilizing traction, distraction, and body positioning.
Our Triton Decompression Traction System is FDA approved and has been clinically proven to provide pain relief and decrease symptoms associated with herniated and/or bulging discs. Excessive compression forces from daily activities increases internal spinal disc pressure which can lead to spinal disc protrusion, herniation, and bulging of disc material.
Over the years, an unexpected result of space travel occurred - astronauts that left with back pain would come back from space with no pain! Researchers found that during the anti-gravity state of the mission there were drompressive forces on the intervertebral discs and back pain was relieved. In addition to the pain relief, they also found that the astronauts' height had increased.
The Triton DTS system was developed using scientific principles and the latest technology to bring basically the same affect. The Triton DTS system has been proven to relieve pain by:
Enlarging the disc space

Reducing herniations

Strengthening outer ligaments to help move herniated material back into place

Reversing the high intra-disc pressures throug the application of negative pressure
Patients describe the treatment as a gentle, painless, intermittent pulling of your back or neck. The treatment can be so relaxing; many patients actually fall asleep during treatment.
---

Corrective Exercises
We teach our patients special "blueprint" exercises to help strengthen and correct their own unique problem. These exercises can be performed in the comfort of your own home and can improve the effectiveness of your spinal correction. In addition to skeletal misalignment, muscles and connective tissues can be out of place or strained by improper alignment and use. Specific exercises and stretches can help your body stay in balance and in health.
---
Custom Orthotics
When foot problems slow you down, doctors often recommend custom fit orthotics to help control improper foot motion, relieve heel pain and reduce stress on your back and knees. Custom made orthotics are arch supports made from a mold of your feet. To create the orthodics, we first scan the foot to determine the pressure points. Then an impression of the foot is made and sent to the lab to create your custom made orthotics. There are a wide variety of custom orthotics available. There are many options wether you wear athletic shoes, heels, sandals, work boots, etc.
---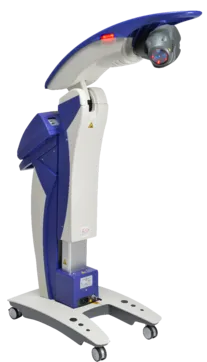 What is MLS Laser Therapy?
The FDA-cleared MLS Laser Therapy uses concentrated light energy to stimulate the body's own healing process to minimize pain, inflammation and arthritis and reduce recovery times so you can return to a pain-free life. By using specific wavelengths and a patented delivery system, MLS Laser Therapy can speed up the process of relieving inflammation and pain associated with many conditions, including arthritis. The MLS Laser Therapy has a unique pain-relieving effect, which can be dramatic. Many patients feel significantly better in just a few treatments.
---